OUR GOALS
Who we are
Supply Wizards is an online ordering platform for office coffee, office pantry, hotel pantry, and vending operators, or any business that provides delivery services. We empower our customers to grow their business with products and features that help increase sales. Our team is comprised of convenience service veterans who are dedicated to helping the industry grow.

As a Red Wizard Group (RWG) company, we have extensive experience in the Food and Beverage industry through our vending management, contract canning, group purchasing, and local vending companies. Our industry expertise combined with our in-house software development team, PwrdBy, allows us to leverage cross-disciplinary expertise and yield innovative solutions and superior operational results for customers.
How we started
Working with our software development team and key local operator partners, we launched Supply Wizards in early 2017 as a platform for hotels to view products and submit orders online. Very quickly, we realized that the need for online ordering extended to the existing office coffee channel.

Supply Wizards enhanced platform features accommodate the unique and customized nature of Office Coffee and Pantry delivery, and we've been growing our customer base steadily ever since. More importantly, using Supply Wizards, our customers have been growing their customer base and improving how they serve their customers.
WHY WE'RE THE SOLUTION
YOUR CUSTOMER NEEDS
We believe the best way to compete against larger retailers in the convenience services industry is to be the easiest, most intuitive solution for your customers' needs.

Our clients see a 24% increase in year-over-year sales using Supply Wizards due to the key features we utilize for the benefit of customers and businesses alike. It's almost like magic!
TAKE YOUR BUSINESS
TO THE NEXT LEVEL
We take pride in offering comprehensive and streamlined solutions tailored to your delivery services enterprise. From our powerful online ordering system to our filter maintenance and mobile driver apps, we supply solutions that offer our clients a competitive advantage. At our essence, we embody efficiency as our most valuable asset — a fusion of attaining optimal value with minimal exertion. Elevate your business, incorporating productive and proficient processes with our turnkey solutions.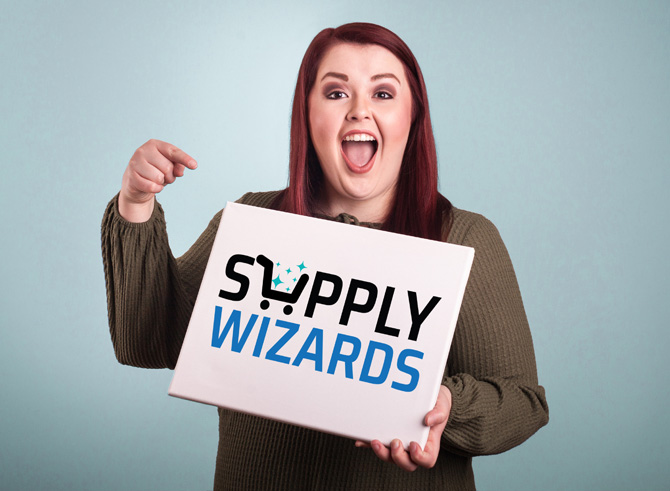 MEET THE PEOPLE THAT MAKE IT HAPPEN
Aja Pascale, Co-Founder
As a seasoned executive at Vending Group, Aja is an expert in operations, business development, and client relations. With 22 years' experience in the vending industry working alongside both small businesses and Fortune 500 companies, she is adept at navigating diverse work challenges, pinpointing issues, and crafting actionable solutions. In 2016, Aja and a small team of industry and technology experts recognized that vending operators needed a new way to manage and grow office coffee and pantry delivery business. Together, they created Supply Wizards, an online ordering platform designed to meet the unique needs of the convenience services industry. Outside of the office, Aja enjoys spending time with her family as well as in the studio pursuing her passion in competitive ballroom dance.
Sheree Hatfield, Operations Manager
With over 20 years' experience in technology, Sheree is a highly motivated and experienced operations manager with a proven track record of success in customer service. She is passionate about providing excellent customer experiences and building strong relationships with customers during the implementation process.

She has been with Supply Wizards since shortly after the first order was received and has been supporting its customers ever since. In her role, she has consistently exceeded customer expect ations by resolving issues quickly and efficiently, and by going the extra mile to ensure that customers are happy.

Prior to taking on her role at Supply Wizards, Sheree gained 15 years of experience in Software as a Service (SaaS) as the Lead Project Manager at CoStar Real Estate Manager, Lease Services department.

Outside of the office, Sheree enjoys being active with her friends and family, her dogs and finding treasures while out thrifting
Prabin Yovan, Lead Engineer
Prabin is a Technical Lead with more than 13 years' experience in software development. Experience working in various technology areas in the Healthcare, Real Estate, Non-profit, and eCommerce Industries. In 2016, Prabin was part of the initial development team to develop and launch the Supply Wizards platform and continues to act as the Lead Engineer. Personally, Prabin enjoys spending time with his family and friends.
Courtney Crockett, UX Designer
Courtney is an experienced User Experience (UX) designer specializing in human-centered design to create effective platforms that are elegant and accessible to all. Prior to joining Supply Wizards Courtney attended Long Beach City College where he majored in human psychology. His passion for football earned him a full scholarship to play for Idaho State University. 3 torn ACLs later, Courtney immersed himself back into psychology. He started as a research assistant and is now a proud User Experience Designer at Supply Wizards.
Eduard Momot, Senior Product Manager
Eduard Momot joined Supply Wizard team in 2023 as Senior Product Manager, bringing a wealth of experience to elevate user experience, lead product strategy, and ensure the platform maximizes value for our customers. Prior to Supply Wizards, Eduard began his product management career at CodeIT, a Ukraine-based company, where he delivered three 0-to-1 products and managed a team of 13 engineers. Transitioning to Upwork initially as a program/project manager and ultimately as a Product Manager, he directed marketing initiatives around user acquisition and managed full product lifecycle for all user-facing marketing pages. He established the Upwork Resource Center which at the time, was first content aggregation initiative at Upwork, and he led a full visual update of the user-facing site, including the home page. After launching Upwork's first social feature, "Upwork Networks", he drove product vision for the experimental "Upwork Teams" delivery model. And finally, he took charge of "Agencies" a primary revenue initiative for Upwork. Shifting his focus to the telemedicine industry, he then moved into a Senior Product Manager role at QuickMD, a nationwide leader in telehealth service for mental health, weight loss, and urgent care, where he co-led a complete overhaul to the patient platform.
Jared Sheehan, Head of Product
Jared is an expert in product development and delivery for digital platforms. With 12 years of experience in product and process development and implementation, he is able to take ideas for features from idea to implementation. In 2016, Jared was part of the initial team to design and launch the Supply Wizards platform and continues to act as the Head of Product. Personally, Jared enjoys spending time with his growing family and road cycling.